A new report from KFF and The Joint United Nations Programme on HIV/AIDS (UNAIDS) reveals that donor governments disbursed US$8.2 billion in 2022 to combat HIV in low- and middle-income countries, returning to 2020 funding levels and still below the high-water mark of $8.6 billion in 2014. The funding supports HIV care and treatment, prevention, and other services in low- and middle-income countries.
Although total donor government funding for HIV increased in 2022 compared to the year before, this increase was primarily because of the timing of U.S. payments rather than increased donor government commitments.
While there has been significant progress in addressing the HIV epidemic—there were 1.3 million new infections in 2022, down from approximately 2 million a decade ago, and almost half as many AIDS-related deaths—new infections and AIDS-related deaths are on the rise in some regions, including in Eastern Europe and Central Asia and the Middle East and North Africa. Further, more than 9 million people living with HIV still lack access to antiretroviral therapy.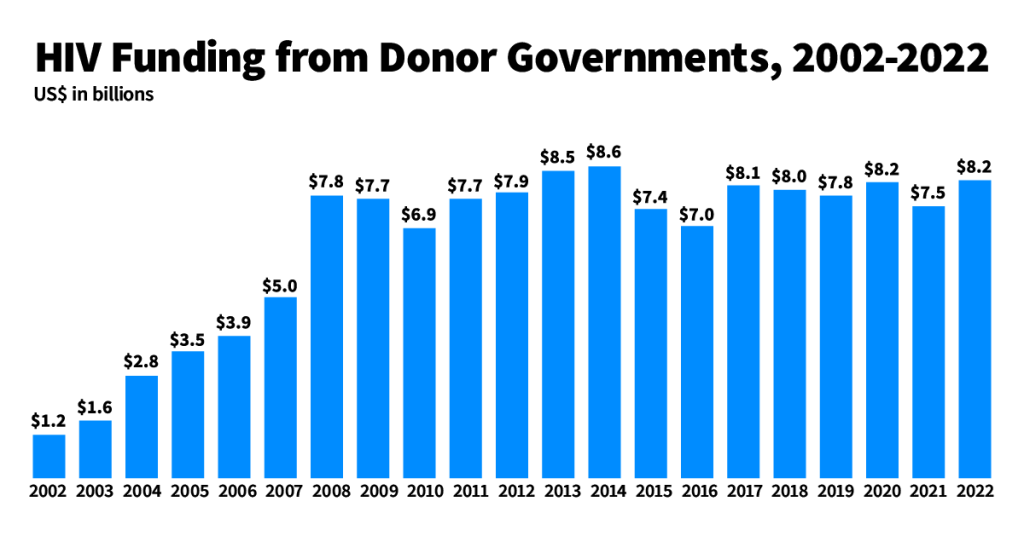 The U.S. continues to be the largest donor to HIV, providing 74% of all donor government HIV funding (US$6.1 billion), followed by France (5%, US$382 million), the United Kingdom (5%, US$376 million), the European Commission (4%, US$328 million), and Germany (2%, US$191 million). The U.S. also ranked first when standardized by the size of its economy, followed by the Netherlands, France, Sweden, and Denmark.
"UNAIDS data show clearly that progress towards ending AIDS is the strongest in the countries that have the most financial investments," said Winnie Byanyima, Executive Director of UNAIDS. "Today, world leaders are faced with an unprecedented opportunity to end AIDS by 2030. However, globally in 2022, funding was nearly US$ 9 billion short of the US$ 29.3 billion needed by 2025. By investing now, donors will not only push forward the end of AIDS but will also be better prepared for future pandemics."
"Our analysis shows that donor government funding for HIV is stable but stagnant, with current levels below the high-water mark reached almost a decade ago," KFF Senior Vice President Jen Kates said. "This contributes to uncertainty ahead, particularly in light of falling domestic resources."
Donor governments' bilateral aid—provided directly to or on behalf of specific countries rather than to multilateral organizations—was US$5.6 billion in 2022, an increase of almost US$130 million compared to 2021 (US$5.5 billion), primarily because of the timing of U.S. payments.
Total bilateral funding from donor governments, other than the United States, has decreased each year for more than a decade (by almost US$1.4 billion or 80% since 2011). While increases in multilateral funding have offset these declines in some years, overall funding from these donor governments is still more than US$1.0 billion below where it was just over a decade ago.
The report, "Donor Government Funding for HIV in Low- and Middle-Income Countries in 2022" is part of a collaborative tracking effort between UNAIDS and KFF that began almost 20 years ago, just as new global initiatives were being launched to address the epidemic. The analysis includes data from all 31 members of the Organisation for Economic Co-operation and Development (OECD)'s Development Assistance Committee (DAC), as well as non-DAC members who report data to the DAC.
The data included in this report are also included in a broader UNAIDS global report, which examines all sources of funding for HIV relief, including local governments, non-governmental organizations, and the private sector.