For people living with HIV to remain healthy and to prevent transmission, the HIV within their bodies needs to be suppressed to undetectable or very low levels through sustained antiretroviral therapy. In 2017—the year for which the most recent data are available—less than half of all people living with HIV were virally suppressed.
There are three gaps on the path to viral suppression (see graph below):
The testing gap: people living with HIV who have not been tested and are unaware of their infection.
The treatment gap: people living with HIV who have been diagnosed but have not initiated treatment.
The viral suppression gap: people living with HIV who have initiated treatment but are not virally suppressed.
By far the biggest gap is the testing gap—one quarter of all people living with HIV were unaware that they were living with the virus in 2017. A further 16% were aware of their HIV status but not on treatment and an estimated 11% were on treatment but not virally supressed.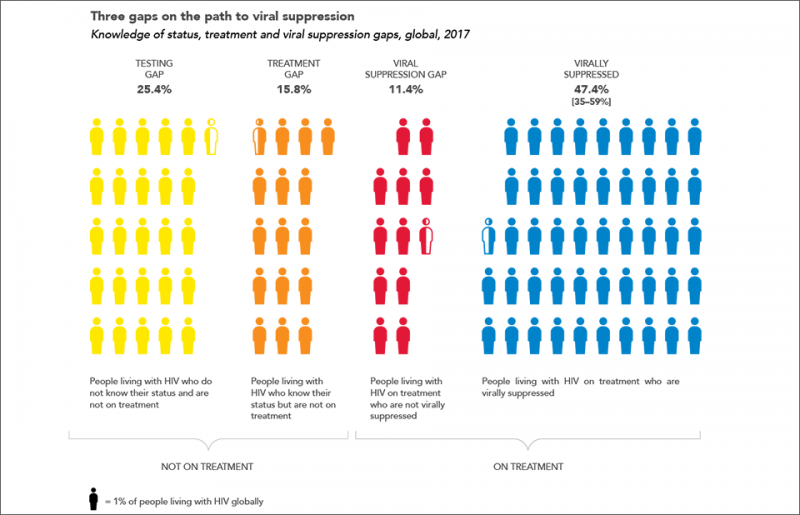 Although the gap in knowledge of HIV status is the largest, the viral suppression gap is growing more prominent. Knowledge of HIV status and treatment coverage has increased more rapidly than viral suppression. As a result, the percentage of people of people living with HIV and on antiretroviral therapy who are not virally suppressed has remained static at 11% in recent years, and the viral suppression gap's share of the total gap has grown from 18% in 2015 to 21% in 2017 (see graph below).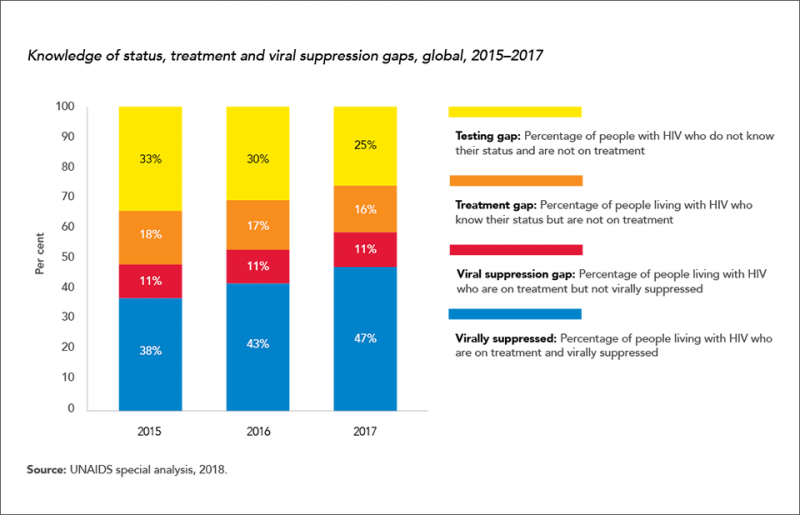 Addressing HIV-related stigma and discrimination, providing treatment adherence support, monitoring viral load suppression and responding quickly to evidence of treatment failure can bring the world closer to the 2020 target of viral suppression among 90% of people living with HIV on treatment.
---